Dr. Gwen Schlueter- Veterinarian
Dr. Gwen Schlueter was born and raised in the St. Louis area. She attended high school at Bishop Dubourg, undergraduate at Rockhurst University and went on to achieve her doctorate at the University of Missouri College of Veterinary Medicine. Dr. Schlueter opened Romaine Creek Veterinary Center in August 2008. Her goal was to have a full service facility for owners convenience as well as having specialists available in surgery, dentistry and ultrasonography. Dr. Schlueter is a strong advocate of Remote Area Veterinary Services (RAVS). She has worked with the Sioux on the Pine Ridge Indian Reservation, which is the most poverty stricken area in this country. When she is stuck at home she enjoys cooking new recipes and snuggling with her pups Alvin, June and her rescue feline, Kris Kringle.
---
Dr. Tora Seals- Veterinarian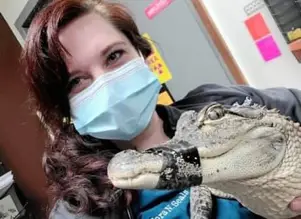 I graduated from the University of Missouri College of Veterinary Medicine in 2015. I moved to southwestern Missouri to practice large animal medicine, but have been exclusively spay/neuter and emergency medicine for the last 3 years. I enjoy all aspects of veterinary medicine but my professional interests are surgery and exotic animal medicine.
My family is from the greater St. Louis area, so I was excited to have the opportunity to move back. I live with an entire pack of dogs, two tortoises, one bearded dragon, one quaker parrot, one rabbit, and a Jersey cow named Margo!


---
Alexis - Practice Manager
My name is Alexis Tamborrino and I am a 2020 graduate of Missouri State University. While there, I completed my Bachelors degree in Animal Science while also studying Agriculture Business to complete my minor. In my four years of schooling, I was on the Missouri State University Show Team where I competed in the western pleasure class. I have two Great Pyrenees named Buck and Goose, a two cats named Timber and Tito and a Lionhead rabbit, Alfie. In my free time I enjoy taking walks, spending time with my family at the lake and watching movies.
---
Cassie - Business Office Specialist
My name is Cassie. I am enjoying being apart of the accounting part of the team. I've always had a love for animals. I have two dogs, Duke and Cash. I enjoy being outdoors and sending time with family and friends.
---
Sam - Veterinary Nurse
Sam graduated from the Veterinary Technician program at Jefferson College. She has two dogs named Bayla and Tucker, she also has 3 cats named Spot, Lilly and Tyra. Previously, Sam volunteered at Open Door Animal Sanctuary. Sam has been an employee at Romaine Creek since 2013 and is often called the clinic "cat whisperer" by other employees because she can handle any kind of cat!
---
Shelbi - Animal Behaviorist/ Veterinary Assistant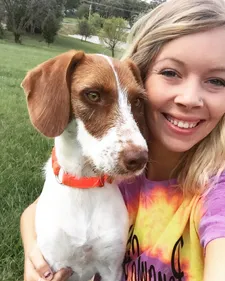 Shelbi recently graduated from Animal Behavior College as a Certified Dog Trainer. She has two dogs, Penny and Ranger and two cats, Paisley and Little Ricky. She hopes to one day use her knowledge in animal behavior to rehabilitate homeless dogs and help them to become more adoptable.
---
Becca - Registered Surgical Nurse
Becca graduated from Jefferson College with a degree in Veterinary Technology in 2006. After graduation she took a position in the anesthesia department at Mizzou's College of Veterinary Medicine. She received advanced training in anesthesia and surgery and worked teaching third and fourth year Veterinary students. She moved several times in the past ten years, maintaining positions at several referral and emergency clinics. She is happy to be back home in St. Louis and working with Dr. Gwen in surgery. She currently lives in Ballwin with her husband Mike, two kids, three dogs (Waffles, Cheeto and LuLu) and two cats May and Petey.

---
Miranda - Veterinary Assistant
Miranda is currently in college studying to pursue becoming an Equine Veterinarian and has always had a passion for animals! Her dream is to be an Equine Veterinarian and to help rehabilitate abused horses. She has a Golden Retriever named Bailey, a cat she adopted from Romaine Creek named Roger and and a Quarter Horse named Dusty.
---
Cathy - Receptionist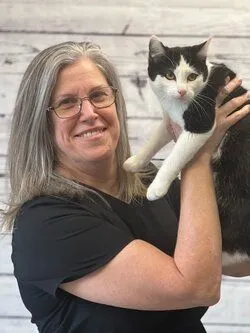 My name is Cathy and I graduated in 1986 from Harcum Jr. College with a degree in Animal Health Technology with practica at the University of Pennsylvania's Small and Large Animal Hospitals. I have been a Licensed Veterinary Technician for 33 years working in the Saint Louis area in general, specialty and emergency veterinary hospitals. I now work at Romaine Creek Veterinary as a receptionist, enjoying taking care of clients to the best of my ability. I enjoy family time with my 2 dogs and cats and my husband, two adult daughters and elderly mama who lives with us.
---
Janice - Receptionist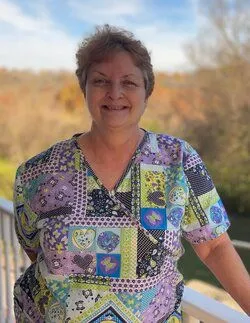 My name is Janice, I am enjoying being the new receptionist. I enjoy spending time playing catch with our dogs Max & Semi. I graduated from Licking High School, in Licking Missouri. I have been with my husband for over 31 years. We spend time doing meat shoots to restock our freezer. Long rides in the country visiting relatives as well as friends. We enjoy auctions, estate & garage sales.